SAN MARINO
The oldest Republic in the world awaits you for a holiday at the gates of the Riviera Romagnola, rich in charm, history and culture. Walking through its historical centre, on the top of Mount Titano, you can breathe even today its magnificent medieval past.
 
Among the most famous monuments that deserve a visit we suggest a walk toward the 3 towers, built in a panoramic position overhanging the rock. You cannot miss even a small tour through Piazza della Libertà, with its Palazzo Pubblico, the Basilica, the State Museum and the picturesque Museum of Torture.
THE RIVIERA OF THE PARKS
The Riviera Romagnola is famous throughout the world for hosting famous theme parks, aquatic and non-aquatic, suitable for families and children. The offer starts from Rimini: here you will find Fiabilandia, an enchanted world designed for children, and Italia in Miniatura, a faithful reconstruction of the main architectural works of Italy and of the world.
 
In Riccione instead you cannot miss a dip in the swimming pools of the Aquafan and a visit to Oltremare, where marvellous dolphins are waiting for you. Going toward Cattolica you can admire the inhabitants of the sea at the Aquarium Le Navi, while toward Ravenna fun continues with Mirabilandia and the exotic animals of the Zoo Safari.
 
Also San Marino offers entertainment for adults and children: you will find sport, emotions at high altitudes and adrenaline at San Marino Adventures, the park immersed in nature, just a few minutes by car from the Hotel Il Monte.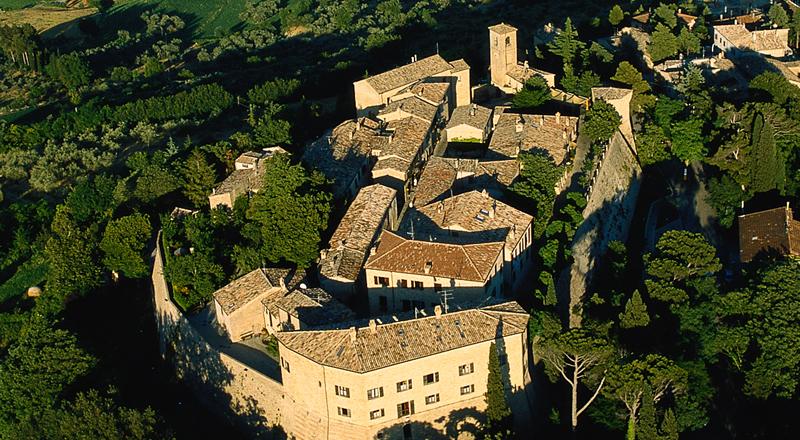 THE INTERLAND
The hinterland of San Marino is rich in small wonderful villages, all to be lived and discovered with a short trip by car. For example, San Leo, Verucchio and Santarcangelo, the most beautiful places of the Valmarecchia. In San Leo you will find the imposing Castle and in Verucchio the panoramic Rocca, while in Santarcangelo you can walk along the small centre, animated by small shops and excellent restaurants.
 
The visit to the discovery of the hinterland also continues toward the south, with a visit to Montegridolfo and its Malatesta Castle and to Gradara, where, as the legend narrates, the tormented love between Paolo and Francesca was consumed, and where today you will find the Promenade of Lovers.